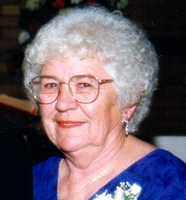 Myla T. Halstead
Myla (Meg) T. Halstead
Meg Halstead found peace on Saturday, April 8, 2017 after a brief illness. She was the daughter of Elsiette and Morgan Thayer, born on December 30th, 1932. Meg graduated from South Huntington High School and SUNY Cortland with a BS in Physical Education. After teaching in the Homer School District, she and her husband Hank opened Hank's Gun Shop in Preble where she was the bookkeeper and store clerk. She was a member of the Preble Congregational Church for many years before moving to Cincinnatus, NY in 1997. Meg was the coach of Preble Girls Softball Team for many years, enjoyed skiing at Song Mountain, tending to her gardens, golfing in the 7 Valley League, the Silver Knights Knitting Needles, enjoyed all crafts and breakfast at the Solon Sportsman Club. Once retired, she and Hank spent many weeks fishing on "The Gun Boat."
Meg was predeceased by her husband Henry (Hank) Halstead and daughter Sally Halstead. She is survived by her daughters Susan McMahon, Jennie (Steve) Kliment, grandsons Dennis and Mark McMahon, Daniel Kliment and granddaughter Jacqlynn Halstead. She is also survived by great-grandsons Hunter, Henry and Huxley McMahon.
Calling hours will be Wednesday at Wright Beard Funeral Home, 9 Lincoln Ave Cortland from 5:00pm to 7:00pm Wednesday, April 12th. Funeral services will be Thursday, April 13th at 11:00, at the funeral home, followed by the interment at Cortland Rural Cemetery immediately after.
In lieu of flowers, please make a contribution to Meals on Wheels of Cortland, N.Y. or the Solon Sportsman Club in Meg's name. We would like to thank the Cortland Regional Medical Center for their tremendous care in her last week.