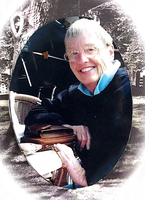 Avis W. Gysel
Avis (Witherow) Gysel passed peacefully at home in Cortland,NY surrounded by her family at the age of 93 on March 31, 2017.
Avis was devoted to her husband Dick sharing 70 years together before Dick passed in 2013. Avis graduated from the Rochester Business Institute and worked at Kodak until becoming a full-time mother. She was an avid gardener, swimmer, bridge player and hiker. Her passion for traveling resulted in many trips with her family to all corners of the world. Avis loved riding her horses. Volunteering was another significant part of her life. She volunteered as church secretary, was active in American Field Service program, nursing support at the VA hospital, guide in Everglades National Park, delivering meals on wheels and more.
Avis is survived her son Rick (Fran) of Cortland, NY, son Peter (Val) Gysel of Coffeyville, Kansas, son Dr. Michael Kusi (Mary) of Broken Arrow, Oklahoma, Sister Sally (Don) Mansfield as well as grandchildren, Stephanie Gysel Coryea (Ian), Matthew Gysel, Luke Gysel, Olivia Gysel , Vanessa Kelley (Ekolu), Avis Kusi, Spencer Kusi and great grandchild Connor Coryea as well as many nieces and nephews.
A memorial service will be held at Homer Congregational Church on Tuesday April 11 at 10am. The internment will be at Mount Hope Cemetery in Rochester, NY at 2:45pm on the same day. Donations in lieu of flowers can be made in memory of Avis Gysel to the local Hospicare at 172 East King Road, Ithaca, NY 14850.
The family wishes to thank those who have supported Avis during the last several months. We thank Dr. Eddo DeLang, Dr. deFerrante and Michael Rubenstein for their extraordinary personal medical care. We thank Alisha Gilbert, Sarah Roy, Heather Moore, Charlene Mudge and Andrea DeForest for the dedicated, loving and professional 24-hour support of Avis. A special thanks to Chris Hodges who provided great care for Avis and Dick from the very beginning.