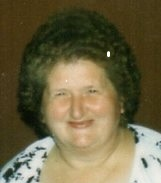 Evelyn L. Long
Evelyn Louise Ayers Long, 88 Cortland passed away May 14, 2017 at Groton Community Health Care Center. She was born October 9, 1928 in Cortlandville a daughter of the late Lawrence and Edna Rolfe Ayers.
Evelyn is survived by her son, Edward Long, grandchildren, Shari (Carl) Bump, Amanda (Eddie) Brown, Vaughn, Natasha, Nathan and Christian Long, seven great grandchildren, two sisters, Martha (Gene) Vossler, Jeanette (Gordon) Rood, and several nieces and nephews.
Evelyn was predeceased by her husband Hobart Long after 33 years of marriage, sisters, Muriel Rood, Norma Tanner, brother Lawrence Ayers, sister in law, Gloria Ayers, brother in law, Donald Rood.
Calling hours will be held 10:00 Am to 12:00 PM at Wright-Beard Funeral Home, Inc. 9 Lincoln Ave. Cortland with a funeral service to begin at 12:00 PM. Burial will follow in Glenwood Cemetery in Homer, NY.