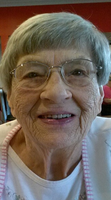 Marion Marie Banner
A beautiful soul has left us, Marion Marie Banner, 88, of Cortland passed away October 2, 2017 at the Cortland Regional Medical Center. She was born September 30, 1929 in Tully Valley NY the daughter of the late Harold and Isabel Bresee Banner. We her family and friends miss her but we rejoice that her pain has ended. She joins her heavenly family where she has a home forever and can dwell in peace.
Marion was a lifelong resident of the area. She and her late husband were house parents at the Children's Home on Port Watson St. during the 1950's. She then was employed with Smith Corona, Durkee's Bakery, then was a health aide until retiring. She was long time member of the First United Methodist Church, singing in the choir, and also with Choral Union at SUNY Cortland. Along with loving her family, she was an avid animal and nature lover.
She is survived by her daughter Denise (Pete) Banner-Haley, son in law Joseph Edwards, her brother Darrell Banner, her sisters Myrna Foster, Shelley Ann (Leon) Banner, many in laws, nieces, nephews, and cousins.
Marion was predeceased by her husband Donald Banner, her daughter Donna Edwards, her brothers Keith, Murvin, and Frank.
Calling hours are Friday 4-6 pm at the Wright-Beard Funeral Home Inc., 9 Lincoln Ave., Cortland NY, 13045. Funeral services will be held Saturday 12 noon at the First United Methodist Church, 734 St. Rt. 222, Cortland NY, 13045
Contributions may be made to: First United Methodist Church or Cortland SPCA, 879 McLean Rd., Cortland NY, 13045.
To offer online condolences visit www.wright-beard.com