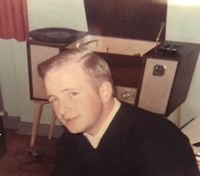 Ronald Shearer
Ronald Shearer, 78, of Cortland passed away November 8, 2017 at the Cortland Regional Medical Center. He was born May 19, 1939 in Cortland the son of the late Charles and Blanche Freer Shearer.

Ron was raised and educated locally. He attended the University of Tennessee then enlisted with the U.S. Army serving from 1963-1966 training as an X-Ray technician. He worked mostly in Syracuse as an X-Ray technician retiring from St. Joseph's Hospital in the early 2000's. He was a longtime member of the Bible Baptist Church. In his spare time he enjoyed driving the countryside with his wife Joan.

He is survived by his wife of 48 yrs Joan Shearer, his sons Charles A. (Diane) Shearer, Douglas W. (Becky) Shearer, Daniel B. (Heidi) Shearer, his grandchildren William, Christopher, Abigail, Joshua, Nicole, Amelia, Anna, Evelyn, & Reise.
He was predeceased by his siblings Mary Ellen Anderson, Nancy Tice, and Frederic Shearer.

Memorial service will be held Saturday 12 noon at the Bible Baptist Church, Rt. 281, Cortland NY with Rev. Steven Barton presiding. Private burial will be at the convenience of the family.