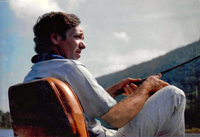 Terry L. Ostrander, Sr.
Terry "T.O." Ostrander Sr., 68, of Homer NY, passed away November 11, 2017, at Crouse Hospital, Syracuse. He was born August 15, 1949, in Cortland the son of the late Melvin and Marjorie Stevens Ostrander .
Terry was a lifelong resident of Homer and Cortland. He had been employed at Durkee's Bakery then with Cooper Tools for over 40 years. He enjoyed watching baseball, hockey, and Nascar, playing fast pitch soft ball, bowling, hunting, fishing and enjoying the outdoors.
He is survived by his son Terry (Angela) Ostrander Jr., his daughters Trisha Ostrander Plunkett and Amy Ostrander, his siblings Sandy Adams (Bob) and Richard "Byrd" Ostrander (Diane), many grandchildren, nieces and nephews.
Calling hours will be Wednesday 4-5:45 pm with a memorial service to begin 6 pm at the Wright-Beard Funeral Home inc., 9 Lincoln Ave., Cortland NY, 13045.
Contributions in memory of Terry can be made to the SPCA, Cortland.