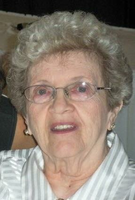 Rosemary Bracciale
Rosemary Coakley Bracciale, age 90, 51 Port Watson Street, Cortland, passed away peacefully on Saturday, November 25, 2017 at Cortland Regional Medical Center.
She was born on November 5, 1927 in Buffalo, New York, the daughter of Leo Diamond Coakley and Bernice Cole Coakley.
This November there was a celebration of her 90th birthday attended by 75 family members and friends.
Rosemary was a long time resident of Cortland County where she graduated from St. Mary's School class of 1945.
She was a proud member of the Daughters of the American Revolution and a volunteer at the Cortland County Historical Society.
Rosemary was an avid card player, reader and knitter, grew beautiful orchids and loved horse racing and antiques.
She was employed as Dr. D'Addario's dental assistant for many years.
She was the loving mother of three daughters: Laurie Marks, Lynn (William) Pomeroy, both of Homer, and Liane (Reese Weyant) Bracciale, of Cortland, and son, Leo R. Bracciale of Arizona.
She was the proud grandmother of three grandchildren: Leslie (Nathan Matanich) Johnson of Minneapolis, Minnesota, Katie (Jeffrey) Hart of Arlington, Virginia, and Nicholas (Kayla) Bracciale of Colorado and an adoring great grandmother to: Zachary Dennis of St. Paul, Minnesota, Danika, Kaya, Isis and Abel Bracciale, of Colorado.
She was the sister of Janice McLorn and aunt to nieces, Kathy (Ralph) Smith and Anne McLorn, of Cortland, New York.
She was great aunt of Sarah (Jamie) Williamson, William Smith, Patrick (Charity) McLorn and James McLorn.
The family would like to express their heartfelt gratitude to Jagadish Makakar, M.D., and the nursing staff at Cortland Regional Medical Center for their support and exceptional quality of care.
In lieu of flowers, it was Rosemary's request that contributions be made to St. Mary's Church, 59 N. Main Street, Cortland, N.Y. 13045.
Calling hours will be held on November 30th from 10:00 a.m. to 12:00 p.m. at Wright-Beard Funeral Home, 9 Lincoln Avenue, Cortland, N.Y., followed by a 1:00 p.m. mass at St. Mary's Church.