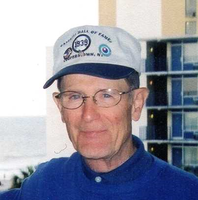 Joseph P. Garvey
Joseph P. Garvey, Jr., son of Joseph P. Garvey, Sr. and Ruth Dolson, passed away peacefully on November 30. Known as "Joe," he was born in Cortland, New York on April 14, 1932. Intensely proud of his Irish Catholic heritage, Joe was baptized and married at St. Mary's Roman Catholic Church. A lifelong member of the parish, Joe was a loyal graduate of St. Mary's Parochial School, and he would often fondly recall his younger days as an alter boy. Joe joined the U.S. Army and served during the Korean War between 1952-54. Honorably discharged, he married Virginia (neé) Bennett in 1960 and worked at Brockway Motor Company until they closed in1977. After Brockway Motor Company closing Joe worked for SUNY Cortland until his retirement in 1995. A loving, devoted, and hard-working husband and father, Joe spent his spare time when he could find it drawing and painting. He especially enjoyed drawing cartoons (and he was pretty good at it!). When not drawing, he could usually be found puttering around in the garage. In mid-life his four grandchildren, and in later life, his great grandson, became a nonstop source of joy, amusement, and occasional mischief. His was a full and well-lived life.
He is survived by his wife Virginia (of Cortland), his daughter Pamela Elston (Michael) of McLean, and his son Stephen Garvey (Carolyn Lee) of Ithaca. He is also survived by four grandchildren, Adam Kingsbury, Desireé Soper (Matthew), and Liam and Amon Garvey, and one great-grandchild, Elijah Soper, a sister in law, Judy Woodward of FL, brother and sister in law, Clayton Bennett (Ann) of Cortland, and several nieces and nephews.
Joseph was predeceased by his parents, a sister, Mary Ann Stack, nephew, Patrick Stack, brother in law, Kenneth Bennett.
Calling hours will be held at the Wright-Beard Funeral Home on December 3 between 1 and 3 p.m. A Mass of Christian Burial will be held at St. Mary's Church on December 4 at 10:30 a.m. Burial will follow in St. Mary's Cemetery with Military Honors. In lieu of flowers donations can be made to the Alzheimer's Association, Central New York Chapter, P.O. Box 96011, Washington, D.C. 20090-6011.
To offer condolences online visit www.wright-beard.com