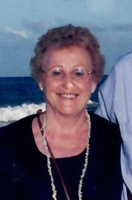 Medora I. "Sally" White
Medora I. "Sally" White passed away at the Cortland Nursing and Rehabilitation Center, Cortland, N.Y., on Friday, January 5, 2018.
Medora was born on May 7, 1935 in Locke, N.Y. to Frank L. Potter and Irene M. French Potter. She grew up in McGraw and attended McGraw Schools. She married Russell White in 1952. She worked with Russ on the Roy Smith Farm in Homer until 1961 when she began working at Smith Corona as an assembler. Sally is best known as a private Home Health Care Aide assisting many local families with their loved ones.
Sally will be remembered for her willingness to help others. She spent hours assisting families with home care help. She was an active volunteer with the 4-H vegetable program. She served as the Vegetable Coordinator for many years and as a judge later on at the Cortland County Junior Fair. Russ and Sally raised beef cattle for many years and maintained a large garden sharing the harvest with many. Sally loved her home care work and helping her neighbors. She enjoyed her paddleboat and pontoon boat rides around Green Lake and spending time with family and friends.
Sally is survived by her three children, Roxanne (Vern) Groves, Steven (Kathi) White, and Stephanie (Daniel) Potter; her grandchildren, Erik Hobart, Lindsay, Kyle, Derek, and Michelle White, Andrew and Nathaniel Potter; a great-grandchild, Brielle Minerich; her siblings, Russ (Connie) Potter, Gordon (Renate) Wiltsey, Virginia York, Betty (Henry) Henson, Dolores (Michael James) Griffith, Ray (Lori) Potter, Beverly Horner; and several nieces and nephews. She was predeceased by her parents; her husband of 65 years, Russell; her siblings, Florence Morris, James Potter, and Cathy Bishop.
The family wishes to thank the staff at Cortland Park for their wonderful care of Sally.
A memorial service to celebrate Sally's life will be held at 5 p.m. on Wednesday, January 17th at Wright Beard Funeral Home, 9 Lincoln Ave., Cortland. The family will receive friends and family prior to the service beginning at 3 p.m.
In lieu of flowers, donations can be made to Cortland County 4-H, 60 Central Ave., Room 140, Cortland, NY 13045.