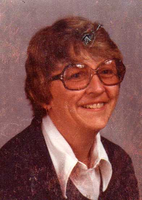 Joan Healey
Joan B. Healey, formerly of 21 Morningside Drive, Cortland, passed away on January 31, 2018 at Cortland Park Rehabilitation and Nursing Center after a long struggle with Alzheimer's disease. Joan was a lifelong resident of the area.
She was born in Cortland October 16, 1935 to John B. and Jane D. Bennett who predeceased her, and her sister Judith B. Hull-Ryde
Joan was an avid knitter, seamstress, reader and bridge player, having been a member of a bridge club for years. She was active in the community as a former board member of the YWCA and The Salvation Army. She and her husband Harvey were very active members of the Republican party where they devoted much time and energy. Joan was a devoted member of Christ Community Church where she sang in the choir, also served as a Deacon and Elder and was active on several committees.
She taught at Homer Elementary School for 26 years. She was a self taught piano and ukulele player. She loved playing for her students.
Upon her retirement in 1991, she and her husband remained active travelling. They went to places throughout the United States including West Virginia, California, Texas and the New York City area. Their trip to Australia was especially exciting!
Joan graduated high school from The Dana Hall School in Wellesley, Mass in 1953. From there, she entered Syracuse University where she met her future husband Harvey who predeceased her in 2011. She was a member of Gamma Phi Beta sorority and graduated with a Bachelor's Degree in 1957.
Joan and her husband Harvey were dyed in the wool Syracuse University football and basketball fans having been season ticket holders for decades. They were active members of the S.U. Orange Pack, attended bowl games and NCAA Championships.
Joan is survived by two daughters, Nancy Wheatley(Jeffrey) of Cortland, Judy Abrams(Rick) of Punta Gorda Fl., and a son, John Healey of Morgantown, West Virginia. She is survived by four grandsons, JB and Ken Healey of Shinnston, West Virginia, Mark Wheatley of Homer and Christopher Abrams of Ft. Lauderdale, Fl. Joan also leaves behind her great-granddaughter, Vivianna Allen-Wheatley of Cortland.
Calling hours will be held Friday, February 9 from 4pm-7pm at The Wright-Beard Funeral Home, 9 Lincoln Ave., Cortland. The funeral is Saturday, February 10 at 11:00 am at Christ Community Church, 292 Tompkins Street with Reverend Dr. Janet Adair Hansen officiating.
Memorials in Joan's name may be directed to Christ Community Church or Memory People Inc.,
C/O People's Bank
P.O. Box 1000
Coshocton, Ohio 43812
Or a charity of one's choice.
To offer online condolences please visit www.wright-beard.com
Internment will be in Glenwood Cemetery in Homer in the spring.