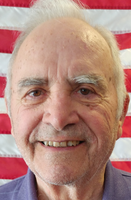 Ralph C. Warren
Ralph C Warren (85) of Cortland NY passed away peacefully at Walden Place in Cortland on March 9, 2018.
Ralph is survived by his wife of 64 years, Lena Partigianoni Warren as well as his two daughters Karen McCauley (Steven) of Virginia and Rosemary Adessa (David) of Cortland, NY.
Ralph was predeceased by his parents Martha and Judson Warren and his sister, Grace Robbins and brother Leslie Warren.
Ralph is survived by his twin brother Russell Warren and his sister Clara Jenkins as well as 4 grandchildren and 7 great grandchildren.
Ralph served in the Korean War as a non-commissioned officer in the Signal Corps (communications). Ralph had a long career in the telephone communications industry, retiring in 1988 from Contel (Verizon).
Ralph was an avid golfer and enjoyed being out of doors. He and his wife, Lena loved to travel and saw much of Europe.
Ralph was devoted to his family and was always willing to lend a helping hand to family and friends and sometimes total strangers!
He was quick with a quip and a joke and had a perennial sunny spirit and smile. He made friends wherever he went. He will be dearly missed.
Calling hours and viewing will be on Tuesday March 13th from 10:00 AM to Noon, with a service immediately following at Wright-Beard funeral home. 9 Lincoln Ave, Cortland, NY. The services will be led by the Reverend Archie Smith.
In lieu of flowers, donations may be sent In memory of Ralph C Warren to either Disabled American Veterans – Cortland Memorial Chapter 153 , 91 Oswego Street , Cortland NY. Or Cortland County Office of the aging, MEALS ON WHEELS 60 Central Ave, Cortland, NY.