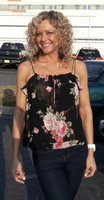 Melissa A. Martin
On January 6, 2018, the world was left behind by Melissa A. Martin, age 44. Melissa passed away peacefully but unexpectedly, in her home in Scranton, Pennsylvania.
She is survived by her only child, Brandon M. Anderson, age 23, who she loved and adored. Above all, he was the center of her world.
Melissa was born on September 12, 1973 to Sandra Strauf and Darrel (Bettle) Martin; who was predeceased on January 31, 1988.
Melissa graduated from Cincinnatus School and attended college following high school graduation in Utica and also spent time residing in Rochester, NY. Before relocating to PA, she resided in Cortland for many years where she left a mark on countless people, including family and a countless number of friends. Melissa had a way of lighting up a room with her one-of-a-kind personality and beautiful smile. She was able to inspire laughter with ease and blessed this world with her generous and infectious soul.
Melissa worked in many capacities, but most recently at Longhorn Steak House near her home in Scranton where she was able to put her social nature to great use. Melissa had a profound impact on her maternal nieces, Kylee Gardner and Cloey Tierno, maternal nephews, Michael Martin Jr. and Austen Gardner as well as Paternal Nieces Avalon Martin and Natalie Hodson and Paternal nephew, Blaze Martin.
She is survived by four siblings, including Michael Martin, Rachelle Sunderland, Shannon Martin Hodson and Shawn Martin as well as several Aunts and Uncles.
At Melissa's request, a funeral will not be arranged. Services will be held for family and close friends only.
A beautiful soul is never forgotten. Fly high with the angels, beautiful Melissa, and let your bright light shine down and illuminate the memories you blessed us with.