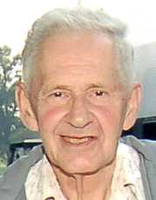 Richard S. Harris
Richard S. Harris, son of R. Curtis Harris and Marion M. Harris, died at Cortland Regional Hospital on Sunday, April 8, 2018. He is survived by three sisters: Margaret Fiske and Edith Dewey of Cortland, and Diantha Brown of St. Paul, Minneapolis, and two brothers, Roger and Jaffrey Harris, both of Homer; two sisters-in-law, Nancy Harris and Nadyne Harris, and many nieces, nephews, grand-nieces and grand-nephews. Mr. Harris was preceded in death by both parents and two siblings: R. Theodore Harris and Rachel Mackey.
Born in 1937, Mr. Harris graduated from Homer Central High School in 1955 and immediately joined the Air Force. He was later employed for many years by NCC Industries, and after retirement, by Cornell University. His special interests included aviation, local history, and the history of World War II. A keen interest in methods of farming led him to be an active member of the Cortlandville Grange for over fifty years. He was a lifelong member of the Homer Congregational Church, United Church of Christ.
A memorial service for Mr. Harris will take place at Wright-Beard Funeral Home, 9 Lincoln Avenue, on Saturday, April 14, at two o'clock. Mr. Harris's sister, the Reverend Diantha Brown, will conduct the service. Friends may greet the family between 1:30 and 2:00. There will be no other calling hours.
In lieu of flowers, memorial gifts may be offered to the Homer Congregational Church or to the Cortlandville Grange.
To offer online condolences visit www.wright-beard.com