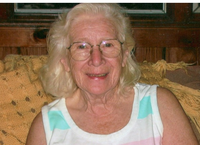 Mary E. Miller
Mary E. Miller,91, of Summerhill, passed away August 1, 2018 at home surrounded by her family. She was born October 10, 1926 in Cortland the daughter of the late Ralph Alfred Hoy and Anna Irenne Merrick Hoy.
Mrs. Miller was a lifelong member of the Groton City Church and the Loyal Workers. When not working on the family farm she enjoyed spending time with her family and traveling the world including trips to California, Hawaii, Germany, Chicago and Arizona.
She is survived by her sons Ronnie (Mary Faith) Miller, Edward S. (Peggie) Miller both of Summerhill, her sister Thelma Riese Witty, her brother Gordon Hoy, grandchildren Tim Miller, Tammie (Charlie) Bernhardt, Andy, Carolyn, Megan (Tim Moffitt), and Jesse Miller, three great grandchildren Hunter & Leah Bernhardt and Aiden Moffitt, along with several nieces and nephews.
Mrs. Miller was predeceased by her son Carl in 1988, husband Donald in 2005, and her sister Betty in 2016
Mrs. Miller also known as "Aunt Mary" to many but Gramma Miller to most was the heart and soul of the Miller family. She was always waiting with open arms, an open heart, an open door, and a hot meal. When she wasn't working on the family farm she spent time with family and friends.
Calling hours will be held Saturday 10-11:45 am with a funeral service to begin 12 noon at the Groton City United Church of Christ, 47 Groton City Rd, Groton, NY 13073.
Contributions may be made to Groton City United Church of Christ.
The Wright-Beard Funeral Home of Cortland is serving the family, online condolences may be left at www.wright-beard.com