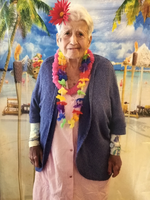 Marlene Strauf
Marlene M. Strauf, 84, formerly of Cortland passed away December 23, 2018 at Penfield Place, Penfield NY. She was born November 3, 1934 in Cortland NY.
Marlene had lived in Cortland working at Philadelphia Sales and Dollar General before relocating to the Rochester area to be closer to family. In her spare time she enjoyed cooking and spending time with her family and friends.
She is survived by her son Eric (Dianne) Strauf, her sisters Claudette Simonis, Luane (Joe) Riley, her grandchildren Nathan Strauf and Danielle Strauf, along with nieces and nephews.
A calling hour will be held Monday January 7, 2019, 10-11 am with a funeral service to begin 11 am at Wright-Beard Funeral Home Inc., 9 Lincoln Ave., Cortland NY with Rev. Allan Ferguson presiding. Burial will follow at St. Mary's Cemetery, Cortland.
Memorial contributions in Marlene's name can be made to Cortland Park Rehabilitation and Nursing Center, 193 Clinton Ave. Ext. Cortland, NY 13045
To offer online condolences visit www.wright-beard.com