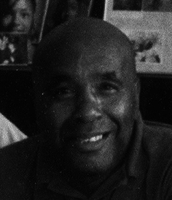 Thomas Haywood Newkirk
THOMAS HAYWOOD NEWKIRK
November 25, 1928 – May 1, 2019
Thomas Haywood Newkirk entered eternal rest on Wednesday May 1, 2019 at Fort Tryon Nursing Home, in Manhattan. He was the ninth child of fourteen children, born to Climith and Esther Newkirk. He was very close to his brothers and sisters and took great interest in the education of his nieces and nephews. He was very athletic, playing basketball, swimming and tennis. Attending his lower education in Harlem schools, and graduating from Morris H.S. in the Bronx, he became the first child in the family to attend college. He was a graduate of The University of Massachusetts at Amherst
Mr. Newkirk served as Director of the Educational Opportunity Program at SUNY Cortland for 21 years. During his time at Cortland, Thomas welcomed almost 1000 EOP students to SUNY Cortland; students who were not initially thought to be college ready. Tom created the Larry Newkirk Memorial Scholarship Award, in honor of his late son. The top program student is honored annually as the recipient of this award.
For his extraordinary service to the college, Mr. Newkirk was a recipient of the SUNY Chancellor's Award for Excellence in Professional Service in 1979. Additionally, he was recognized by: "Who's Who Among Black Americans", "Arthur O. Eves Community Award", "City of Cortland Mayor's Appreciation Award", and "Council of EOP Directors Excellence Award".
Thomas lived for many years in McGraw, New York, and cherished his time at the farm and in our community.
Preceding him in death; His eldest son Larry, his father, mother, brothers, Milton, Galen, Clarence, Climith and Louis; sisters Marian, Esther, Vivian, Bessie, Myrna and Laura.
He leaves to cherish his memories, his children: Kori, Kamila and Kissan; Grandchildren: Thomas, Cobe, Joshua and Oliver; His sisters Lee Kirk and Eunice Newkirk; His companion, and love of his life for over 20 years, Irene Matthews; Trusted friend and supporter, Joseph Fobbs; and a host of nieces and nephews.
A memorial Service is scheduled for Saturday June 1, 2019 from 3-5 P.M. in the Bronx, at the Herbert McCall Funeral Home 984 Prospect Ave. Locally, a gathering will be private and at the convenience of the family.
Please consider a donation in Thomas' memory to the Larry Newkirk Memorial Scholarship, c/o Cortland College Foundation, PO Box 2000, Cortland, NY 13045.