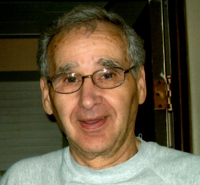 Arthur Thomas Fitzgerald
In loving memory of Arthur Thomas Fitzgerald (Artie) of Homer, N.Y., 77, went home to be with the Lord on June 15, 2019. Artie lived in Homer, N.Y. all his life.
He was married to Mary Strauf until the time of her death.
Artie worked at Durkee Bakery for 13 years, and also at Brewers for a while. Then at Homer Agway for 25 years until he retired at an early age.
Artie was predeceased by his wife Mary, his parents Cornelious Robert Fitzgerald Sr. and Lucy E. (Hicks) Fitzgerald, his sisters Ellen Nowalk, Evelyn Palladino, Louise Riley, his brothers Robert Fitzgerald, Danny Fitzgerald, John Fitzgerald, and an infant brother.
Artie is survived by his brother Cornelius Robert Fitzgerald Jr., of Cortland; sisters Lillian Batsford, Isabelle Petrie, both of Homer, Mary Henry of Cortland; two special nephews Anthony Fitzgerald (Tony), and Daniel Fitzgerald (Tiny); several nieces, nephews, and cousins; and a special longtime friend Darlene Jarvis, who provided wonderful care to him during his recent illness.Artie is also survived by his step children Joan (Gerald) Carey, Dale (Jerra) Strauf, Sr., step grandchildren, Lori Frisbie, Candy (Dan) Farris, Tamara Strauf, Dale Strauf, Jr., step great grandchildren, Tyler, Alexander Frisbie, Dan, Zachary, Lucas Ferris, and one step great great grandchild, Carson Houser-Frisbie.
Calling hours will be held Thursday June 20, 2019 from 12:30-2PM at Wright-Beard Funeral Home, 9 Lincoln Ave., Cortland, N.Y. with a service to follow at 2 PM. Burial will follow in Glenwood Cemetery, Homer, NY.
Contributions can be made to the Cortland County Hospice and Palliative Care.