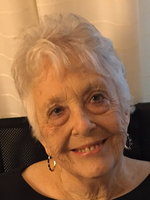 Sondra H. Stark
Sondra Harrington Stark, 85, of Cortland, passed away on June 15, 2019 at Bridges Cornell Heights in Ithaca after a short illness. Sondra was born June 1, 1934 in Cortland the daughter of the late Reginald Hitt Harrington and Gladys Robbins Harrington.
Sondra is survived by two daughters; Sharyl Stark Overhiser (G. Robert) and Pamela Harrington Stark, brother W. Stephen Harrington (Sandra), granddaughter Sarah Wells Schissel (Josiah), grandson G. John Overhiser, sister-in-law Beverly Stark Eddy and several nieces and nephews.
In addition to her parents, Sondra was predeceased by her husband of 59 years, John Albert Stark, and her son Douglas John Stark.
Sondra graduated from Cortland High School and attended Bucknell University where she met her husband. She received a Bachelor of Social Work degree from Cleveland State University and worked as a Social Worker at Ashtabula County Community Action Agency in Ashtabula, Ohio. In addition to Ashtabula, Sondra also lived in Conroe, TX and Southport, NC before returning to Cortland for the last 10 years of her life. She loved her family, Christmas, making pottery, traveling, and playing bridge and golf. She was a great cook.
A graveside funeral service will be held at 9 AM on Saturday, June 22, 2019 at Cortland Rural Cemetery, 110 Tompkins St, Cortland.
In lieu of flowers, donations can be made to Franklin Square Gallery, 30 E. West Street,
Southport, NC 28461