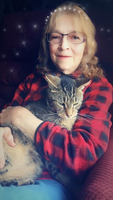 Margaret Swansbrough
Margaret E. Swansbrough age 72, of Newfield passed away June 10, 2019 at Crown Park and Rehabilitation Center. She was born May 5, 1947.
Margaret was part of a large family. Margaret spent 26 years married to the love of her life Duke.She enjoyed time with her family and especially loved holidays. She also loved to spoil her grandchildren and great grandchild. She loved her cats, they were her babies and companions.
She is survived by her brothers Bobby, Dick and Raymond. Also her sisters Betty, Pat, Jackie and June. Also her daughters Brenda, and Raquel, and her stepson Robert and step daughter Amy. She has 10 grandchildren, Kristina, Samantha B, Britny, Brianda, William, Alex, Dylan, Samantha, Shawn and Casey, and great grandchild Areonna. She also has many nieces and nephews.
Predeceased by her husband Harry Swansbrough Jr. (Duke) and her sisters Nancy and Joane, and brother (Roy) and her son Richard Bailey Jr. (D.J.).
A celebration of life will be held at her daughters home. 1649 Swan Hill Rd Alpine NY, 14805 on June 23rd, 2019 at 2pm. Family and friends welcome.