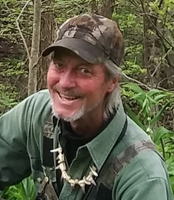 Jeffrey "Jeff" Smith
JEFFREY H. SMITH
Jeffrey H. Smith, 55 of Virgil, NY passed away August 21, 2019 at his home surrounded by his loving family.
Jeff was the son of David and Elizabeth F. Smith and was born on November 30, 1963 in Cortland, NY. Jeff is survived by his wife of 22 years Tamara (Zeches) and their three loving children. Jeremy VanCise (Jeni) of Virgil, Jordan and Jacob (Gabrielle DeFranco) who reside at home and three lovely granddaughters Elizabeth, Sophia and Bailor. He is also survived by his brother Stephen and his wife Ann of Sullivan, MO and his sister Sue and her husband Tom of State College, PA along with his nieces Abby, Elle and nephew Jon. He also a loving son in law, brother in law, cousin and friend to many.
Jeff graduated from Cortland High School in 1981 and received a BS from ESF SUNY College of Environmental Sciences and Forestry. He was the Manager of Reynolds Game Farm in Ithaca, NY until his retirement in 2015 to fight his battle with pancreatic cancer. Throughout his long and courageous battle with a rare form of the disease, Jeff hoped to raise awareness and further research for the disease to help other sufferers.
Jeff was an avid outdoorsman and his love for hunting was infectious to everyone around him. From spring turkey season to fall deer hunting he was either scouting, hunting, or preparing for the upcoming season. In between seasons he was an avid birder, always adding to his bird life list. He was involved in many bird and wildlife studies for which he received numerous awards and much recognition for.
Family and friends were a priority to Jeff. Camping, fishing, BMX and motocross races, reunions and just being with these people was the nucleus of his life.
Calling hours are 10:00am to 12noon Saturday at the Wright Beard Funeral Home, 9 Lincoln Ave. Cortland, NY with service immediately following at the funeral home at 12noon. Friends may make donations in his name to Cortland Hospice, 11 Kennedy Pkwy, Cortland NY 13045 or the Cornell Lab of Ornithology, 159 Sapsucker Woods Rd., Ithaca, NY 14850 in lieu of flowers.