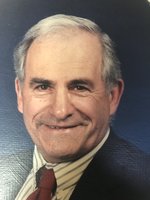 Russell E. Warren
Russell E. Warren, 86, of McGraw, N.Y., passed away Monday September 23, 2019 with his loving wife by his side. He was born on November 28, 1932 to the late Judson Warren and Martha Young.
Russell was born in Cortland, N.Y., graduating from Truxton High School. He then went on to serve his country in the US Coast Guard from 1952-1956. Upon his release from the service, Russ took a job at Cortland Agway from 1956-1964, where he worked his way up to Manager. He then decided if he was going to work that hard, he wanted to work for himself. He attended Alfred State College, learning the trade to open his business, Warren Electric & Refrigeration. Upon his retirement, he sold his refrigeration business to his son Barry, who owns and operates it to this day. He had sold the electrical portion of his business to his hired hand, Lew Heath.
Russell worked hard and played hard. Through the years he raced motorcycles in Enduro races, Motocross and Hill climbs. He also raced snowmobiles, and was well known and respected on the Boonville track. He always made sure his family had motorcycles and snowmobiles to play on. Russell worked hard to excel at everything he did. He was King of the Hill in bowling one year. Shortly after, frustrated with himself for not bowling as well as he wanted, it is rumored his bowling ball may be at the bottom of the Tioughnioga, somewhere near the Port Watson Street bridge. Russell then took up archery, becoming the first to get a perfect score in Cortland County. He later was NYS Archery Champion several times. Russell was picked up and sponsored by Precision Archery, where he competed for them all over the US.
Russell is survived by his wife of 66 years, Elaine (Sickmon) Warren, a son Barry (Marti) Warren, daughters Deborah Holley and Bonnie (Carleton) Haines, his sister Clara (Jim) Jenney, six grandchildren, 2 step-grandchildren, four great grandchildren and 3 step-greatgrandchildren, several nieces and nephews that he was very fond of. Russell found a lot of enjoyment spending time with family and his many friends.
He was predeceased by his sister Grace, his younger brother Leslie, and his twin brother Ralph. He was also predeceased by his granddaughter Alexa Bolynn.
In lieu of flowers, the family has requested you consider a donation to the East Homer United Methodist Church 2642 Route 13, Cortland, NY 13045 or Hospice of Cortland (in Russell's name) 11 Kennedy Parkway, Cortland, NY 13045.
Calling hours will be held Saturday September 28, 2019, at Wright-Beard Funeral Home, 9 Lincoln Ave., Cortland, N.Y., from 10am-12pm, followed by a funeral service at 12pm with burial at Glenwood. Friends and family are welcome to attend a celebration of life at the East Homer Grange, immediately following the interment.
To offer online condolences please visit www.wright-beard.com