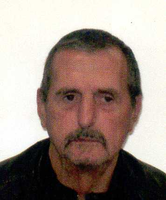 Douglas E. Smith
Douglas E. Smith Sr., 67, formerly of Cortland, passed away in Florida.
Douglas was a fan of Nascar, Stock car, and was an honored United States Veteran.
He is survived by his sons, Douglas (Shelley) Smith Jr. and Warren (Christy) Smith; his brother Larry (Barbara) Smith, his sisters Joanne (Gary) Surely, Jean (David) Chaffee, Rose (Bill) Root, four grandchildren and five great-grandchildren. Douglas will also be missed by his loving dachshund, Littleman.
In addition to his twin brother, Douglas was predeceased by his parents Warren A. Smith and Gladys Clark Smith.
A memorial service will be held on Sunday October 13th, at 2pm, at the McLean Community Church, 50 Church St. McLean, N.Y. 13102. Burial will follow immediately at Cortland Rural Cemetery. After the conclusion of the burial, friends are invited to return to the church for a meal.
In lieu of flowers, please consider a donation to Wounded Warriors, support.woundedwarriorproject.org
To offer online condolences, please visit www.wright-beard.com