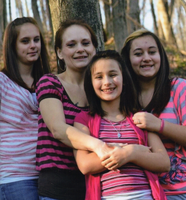 Tracy M Reynolds
Tracy Marie Miller Reynolds, 43, of 113 West Ave. Rochester, N.Y., passed away unexpectedly on Sunday November 3, 2019. She was born on September 5, 1976 in Cortland, N.Y.
Tracy worked at Doug's Fish Fry for several years as well as Cayuga Medical. She was a stay at home mom with three beautiful daughters. She was an outdoors person, loved crafts, listening to country music, and spending time with family and friends
Tracy is survived by her children Cynthia, Jamie, and Raven, her children's father Daryl (Chip), her father Kevin and his wife Sue, her mother Vickie Chamberlain and her husband George, also father Charles Scutt and wife Brenda, her sisters Tonya Kinthiseng, Trisha Scutt, Shelly Townsend, Trina Cook, Lauren Chamberlain, and Nailisa Hussar, her brothers Christopher Griffin, David Griffin, George Chamberlain Jr., Thomas Rowe, Robert Miller, and Kevin Holt, several aunts, uncles, nieces, nephews, and cousins.
Tracy is predeceased by two brothers Charles M. Scutt, Micheal Sampson, and grandparents Voyal (Beaver) Iris Miller.
A celebration of life will be held at a later date. The Wright-Beard Funeral Home is serving the family.