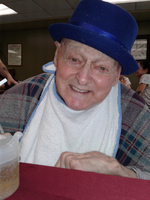 Jay C, Fox
Jay C. Fox, 84 of Cortland Park Rehabilitation and Nursing Center went to be with our lord on November 6, 2019. He was born on September 15, 1935 a son of the late Clinton and Iva Fox.
Mr. Fox attended schools in Cincinnatus, NY and worked on various dairy farms throughout Cortland County and retiring from the Slade Farm in Homer. Jay grew to be a very loving and caring man and it was later in his life that met and married the love of his life, Dorothy. They had 22 of the most loving and wonderful year's together gardening, fishing, going to auctions, raising chickens and traveling. You never saw one of them without the other. They loved spending time with family and friends. Jay was a true friend, an amazing husband, father and grandfather to his step children whom cherished him as their own father and grandfather. He so enjoyed making new memories all the time.
Mr. Fox was predeceased by his parents, Clinton and Iva Fox, a son Jay after birth, his brothers Gordon, Joe, Earl, Ira, Harold, Joe and Morris, his sisters Barbara, Wanda, Dorothy and Sharon.
Also predeceased by his loving wife of 22 years, Dorothy V. Fox, in June 2011.
Jay is survived by his sister, Beulah Christopher of McGraw and a brother Gaius Fox of Pulaski, NY survived also by a son Tim and Daughter Deb. He is also survived by his step children he considered his own, Roger and Michele Cornelius of East Freetown, their sons, Jimmy Cornelius, Tim (Jaime) Hall, their children, Christopher, Jayla, Kary, and Cash Hall. Larry Borden and his children, Yannick, Elijah Borden. John and Debbie Cornelius of VA, and their son Patrick (Leslie) and daughter Shelby. Michael and Valarie Cornelius, their children, daughter Hiedi (Corey) Romans and their children, Breanna, Abigail and Logan Romans, and son Michael II (Brayleigh) and their daughter Scarlett Cornelius. Rodney Clark of Moravia and his children, a son Matthew (Morgan) and their children Matthew and Levi and daughters Mickayla Clark, Amanda (Thomas) Nelson.
As per Jay's request….there will be no calling hours. Burial of the urn will be announced at a later Date!