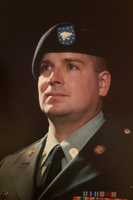 Darrin R. Phillips
Darrin Raymond Phillips, 53, of Cortland, NY, passed away unexpectedly on Friday, 11/29/2019.
The funeral service will be held at Faith Baptist Church on 12/6/2019 with Pastor Matthew Smith officiating and Norm Stitzel providing Military Honors. Visitation will be held at the same location on 12/6/2019 at 3:00 - 5:00PM. Service and Dinner to follow. Wright-Beard Funeral Home will be handling funeral services
Darrin was born in Cortland, NY to Duane Phillips and Delores (Allen) Phillips on May 6th, 1966. He went to High School at Cortland Junior-Senior High. He went on to enlist in the United States Army, earning the title of Corporal and spending the duration of his career as a Petroleum Supply Specialist (4). He was the recipient of multiple commendations and medals including the Army Achievement Medal, Army Commendation Medal, Global War on Terrorism Medal, Army Good Conduct Medal, etc. Following Honorable Discharge from the US Army, he became a self-employed landscaper. He was known to his friends and family as an avid outdoorsman. He enjoyed riding his motorcycle, cooking for family, collecting, thrifting and always took the opportunity to make others laugh.
Darrin is survived by his daughter, Shannon (Shaughn) Goggin and his grandchildren Adalyn and Liam, his father Duane Phillips, siblings Michael (Ann) Phillips, Rebecca (Andrew) Giessman and Tamara (Troy) Pierce, as well as several nieces and nephews--all of which he adored. He is predeceased by his mother, Delores Phillips.
Lastly, it was well-known that Darrin was devoted to God and his country, as made evident by his service in the military. Not only was he steadfast in his faith, but he was incredibly proud to be an American. It is for this reason that we would like any and all Memorial donations to be made to Veteran Search and Rescue by visiting their website at https://www.vetsar.com.