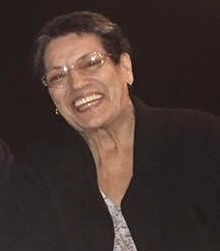 Obituary of Santa Seamans
Santa Seamans (Aloi) 75, of Cortland, died at 4:13 PM, Monday, October 16, 2017 at Cortland Regional Medical Center, Cortland, NY. She was born September 13, 1942 in Cortland, NY, to the late Frank and Dorothy Aloi.
She is survived by her sister Joan Cooper of Cortland, NY and brother Frank (Mary Beth) Aloi of Cosby, TN; three sons, Kenneth (Richanna) Romer; grandson Ryan Romer of Cortland, James (Tina) Romer; grandsons Steven and Michael Romer of Cortland, Raymond Casterline; grandson Matthew Majchrzak and granddaughters Anna and Brooke Casterline of Rochester; and one daughter Renee (Leo) Mayer and granddaughter Sophie Mayer of Cortland; along with many nieces, nephews and cousins.
Santa was a graduate of Cortland High School and had a number of careers but was first and foremost a Daughter, Sister, Mother and Grandmother. She put her love into life and her family and as she used to say, "My children and Grandchildren are the love of my life and I live for each and every one of them. That's what life is all about! Family!" A belief that she fought for till the end. She also loved to cook and share stories with friends.
Calling hours are from 6 PM until 8 PM on Thursday, October 19th, 2017 at the Wright-Beard Funeral Home. The funeral service will be held at 10:30 AM on Friday, October 20th, 2017, at St. Mary's Catholic Church. Father Joseph Zareski will be officiating. The burial will be at St. Mary's Cemetery.