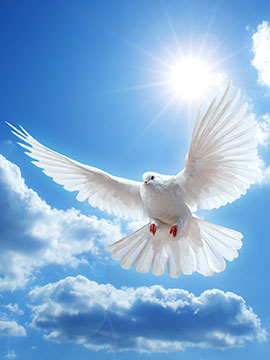 Obituary of Robert W. Foster
Robert Wesley Foster, age 95, a lifelong resident of the Cortland and Virgil area, passed away early Saturday, January 27th, 2018.
Robert had been a resident at Groton Community Health Care Center since last summer, where his wife Mary also resides.
Robert was born to Ray and Fanny (Kryger) Foster on September 28th, 1922, in Cortland, New York. In his early years, the Foster family lived on various farms in the Virgil area.
From the time of birth, his parents carried him to the Free Methodist Church on Jewett Avenue. As an infant, he was taken to church in a basket on his mother's bicycle, while his brother Paul rode on their father's bike. Robert has attended there all of his life and was a member for many years.
On Easter Sunday (April 1st), 1945, Robert married Mary Agnes Beach at her mother's home in Cortland. They met three weeks before when Mary answered an ad for a puppy. In 2018, Easter once again falls on Sunday, April 1st; only the second time since their marriage, marking their 73rd anniversary.
Besides his wife Mary, age 90, Robert is survived by a daughter, Barbara Watts of McLean Road; her children, Melody Aldrich, Monica (Steve) Smith, both of Cortland; Robert (Angel) Bush of Newark, Ohio and Phillip Bush of Groton, NY; several grandchildren and great-grandchildren.
Robert's son also survives, Wesley (Linda) Foster, of Rockford, Michigan as well as their five children; Danita (Glen) Baker of Sand Lake, Mi, Darlene Johnson, and Catherine (Duane) Pope all of Georgia and Timothy Foster and David Foster of Rockford, Mi; 10 great-grandchildren.
He was preceded in death by his great-grandson, Robbie D. Bush, Jr. on Oct 1st, 2013.
Robert had 10 siblings, of whom four survive; a sister, Ruth Stevens of Cortland and three brothers: Carl Foster of Maryland, Charles and Faith Foster of NC and Harold and Shirley Foster of Cortland. Also surviving is a Brother in law, Lynn Widger of Maryland.
He was preceded in death by his parents and 5 siblings, Paul (2010), Ralph (2016), Ernest (2014), Mary Jane (2010), Ethel Briggs (2008), and Edna May Widger (2012).
Robert was retired from Smith Corona. As with most of the Foster family, Robert was musical, singing in church and playing the harmonica. Besides resting, he enjoyed gardening, feeding the birds and caring for his several cats.
A private viewing will take place with a memorial service at a later time at the Cortland Free Methodist Church.
Cards may be sent to Mary Foster:
GCHCC 120 Sykes St. Groton, NY 13073
Any contributions in Robert's memory may be sent to his church.