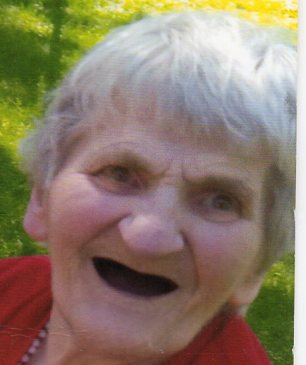 Obituary of Virginia F. Daniels
Virginia F. "Gini" Daniels 87 of Virgil, NY went home to be with the Lord on October 23, 2018.
Funeral service will be held at Wright-Beard Funeral Home on Lincoln Ave in Cortland on October 26, 2018 at 12pm with pastors John Iler, Loretta Perry, and Palmer Neumeister officiating. Calling hours will be from 10am to 12pm on October 26th as well for those wishing to pay their respects.
Virginia was born in Thurston, NY to Grace E. Thornton and Fred Davis on July 5, 1931. And on December 24th 1947 her childhood dream was fulfilled when she married her true love Francis A. Daniels underneath the Christmas tree. Virginia fulfilled another childhood dream by raising five wonderful children. Virginia loved spending time with her family especially her children, grandchildren, and great grandchildren. Virginia attended church regularly and enjoyed the old gospel hymns. Virginia will always be remembered for her love of family, friends, the color green, cherries, and not sharing her cookies.
Virginia is survived daughters Rosalie V. Lamey of Groton, Shelley S. Schreffler of Homer, Carolyn G. Singbusch of Cortland, Juliana R. Brownlea of Omro WI and son Wayne F. Daniels of Marathon. Grandchildren Richard F. Smith of Cortland, Randy W. Smith of Locke, Kimberly S.Granato of Cortland, Rebekah R. Fuller and Sarah Brownlea of Omro WI, Hope C. and Lily V. Singbusch of Oneonta NY Shannon M. Landers of German NY , and great grandchildren Andrew, Michael, David and Caleb Smith of Mcgraw NY. Nathaniel, Liagrace, and Issac Smith of Locke NY Michael J. Granato of Cortland NY, and Emily Schmidt of Ormo WI. Dominick Piper, and Payton Landers of German NY along with numerous cousins .
Virginia is preceded in death by her husband Francis A. Daniels and her grandson. Jason Schreffler.
Memorial donations can be made to any local food pantry
To offer condolences online visit www.wright-beard.com