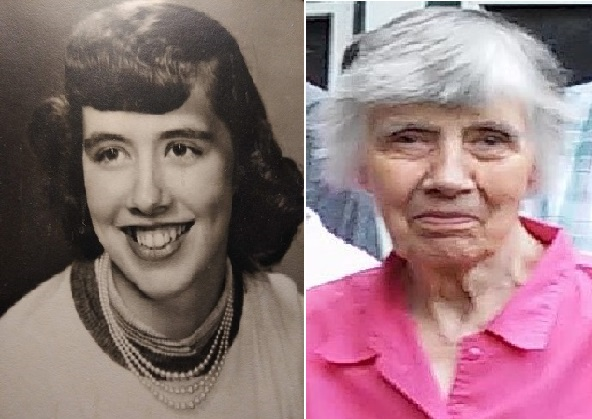 Obituary of Kay Marion
Kay Maybury Marion, 82, of Ithaca received a homecoming in heaven December 13, 2018. She is survived by husband Robert Marion, children; Yvonne (Steve) Vonderweidt of Syracuse, Yolanda Richardson also of Ithaca and Lori (Jeremy) Herzog of Oshkosh, WI and grandchildren Roary, Angelique, Jaylam, André, Callisthène, Arielle, and Jeannette. Besides these she is survived by her younger siblings Jacquelyn, known as Arlene, Thomas of Longview, TX, Donald (Jane) Maybury of Waterloo, NY and Martha Haney of Jacksonville, FL; nephews Bruce, Timothy and Aaron Maybury, and niece Diane Ware besides their children and those of deceased nephew Dean Ames. In recent years she has also adopted as grandchildren Anthony and Atira Herzog.
Born in Homer, NY Kay moved many times as a child, her father often building a new home and small farm. She graduated from Homer High School (1954) with business classes. She was living on her own and financially independent by 19 working at Suburban Propane, Cortland State College library and babysitting for over 50 families among other jobs.
She and Bob raised their girls in that puke green house on route 79 East which they built with many helping hands. She always had time to catch up and eagerly lent her listening ear. When she didn't homeschool she volunteered as a librarian where her daughters attended or taught. Sunday mornings nearly always found Kay in church worshipping with more of her extended "family."
In her free time she crafted, often crocheting a doily for a wedding present or blanket for a birthday. She created scratch meals, frequently incorporating her garden grown vegetables and Bob's hunted venison. These contributed to the memories of the people who entered their home and their hearts. Sunday afternoons were marked by visiting family or friends around the area, or former classmates, coworkers and neighbors, or a convalescing acquaintance or a person she knew felt alone.
Kay's family will be hosting a celebration of life at Brooktondale Baptist Church toward Caroline on Slaterville Rd. Friday December 21, 2018 at 1pm. Feel free to attend or comment on her obituary at wright-beard.com and/or the FB event (swap a good story, share a memory or leave a message, and pass on info to others). In lieu of flowers consider donations to Family Life radio network, Tompkins County Young Life, your local library or another venue on your heart.