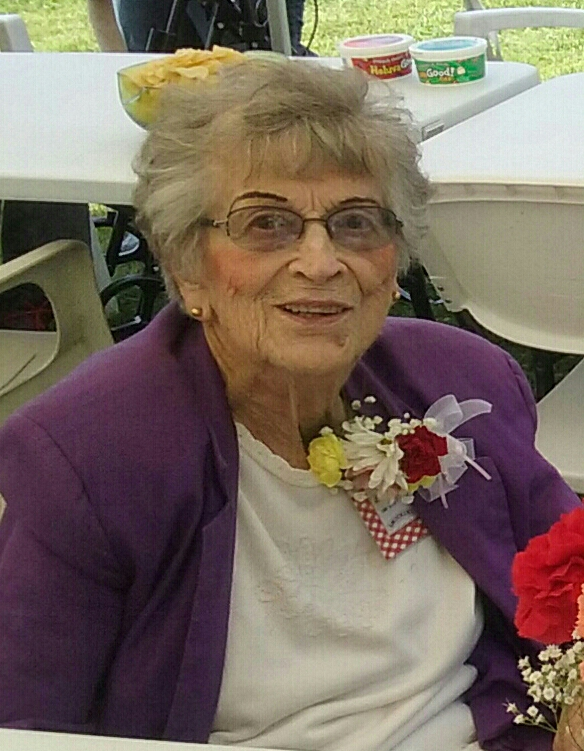 Obituary of Jane K. Hill
HOMER – Jane King Hill, age 101, passed away on December 15, 2018 in Crouse-Irving Hospital, Syracuse, after suffering a stroke earlier in the week.
She was born August 18, 1917 in Genoa, NY, the daughter of Floyd and Effie Mason King. She married Horace Hill in 1935 and lived in the Homer area most of her life. She served as postmaster of the Little York Post Office for many years. She and her husband, who predeceased her in 2005, spent many winters in Plant City, FL. She was the oldest member of the Preble Congregational Church.
Mrs. Hill is survived by sisters Celeste Kelly, Nashua, NH, and Vivian Voorhees-Mason, Macedon, NY; her three daughters, Anne Henderson, Preble; Linda Biemer, Endwell; and Kathy Dunn, Cortland; and six grandchildren: John (Laurna) Henderson, Tully; Jean (John) Hilts, West Eaton; James Henderson, Preble; Julie (Kevin) Baldwin, Homer; Chance Briggs (Renata), Mozambique, Africa; and Jane Dunn (Jeff Searles), Ithaca; and three step-grandchildren: Rob and Erich Biemer, Cortland; and Katy (Paul) Mendillo, Pinehurst, NC. She is also survived by seven great-grandchildren and many nieces and nephews. A brother and two sisters predeceased her.
The family will receive friends from 12 noon to 2 p.m. Saturday, January 12, 2019, followed by a funeral at 2 p.m. at Wright-Beard Funeral Home, 9 Lincoln Avenue, Cortland, NY. Burial will be in Elmwood Cemetery, Preble in the spring.
In lieu of flowers, please consider donations to the Preble Congregational Church, Preble, NY 13141. Kindly share your memories of Jane at www.wright-beard.com.